Pandora Mini BT
Stock Type:
Mini BT
Availability:
In Stock
Delivery Charge
£0.00
Price: £500.00

The Pandora Mini BT is an excellent security system comprising an alarm and immobiliser system that works very discreetly with your original vehicles remote control or keyless entry system. The Pandora Mini BT uses Bluetooth to send all the alerts through to your smart phone via the app. Range of the Bluetooth app is up to 35 meters depending on conditions. The only part you need to disarm the alarm and immobiliser system correctly is the ADR card. This sits on the vehicles key's and submits a secure signal 128bit on the 868Mhz wavelength meaning it can't be cloned or key scanned like other alarm products on the market. This system also features a loud 118DB siren.
Designed for the customer who wants ultimate security encryption to protect their vehicle against car theft and key scanning, but still want the alarm to be controlled by your OEM factory key fob and a minimum of 2x Immobilisation points on the vehicle. Also includes Pandora BT Bluetooth app for smartphone control and alarm adjustment.The Mini BT system works by detecting Pandora's Bluetooth ID tags close to the vehicle (distance can be set by the customer from the distance of 1-10m) if the tag is detected close to the vehicle, the tag will allow the system to be disarmed through your factory fob or through your cars keyless entry system ( Providing this tag is detected by the alarm, if not the alarm and immobiliser remain active). No need to carry any extra large key fobs and protects your vehicle from the latest threat of key scanning, Key cloning and RollJam.
The Mini BT protects you against the main attack methods used by today's car thieves...
Roll jam
Key scanning
Key cloning
Handsfree locking also works with your OEM door button and proximity key.
Pandora's Handsfree locking allows you to Simply walk up to your car with the Pandora tag in your pocket. When the alarm systems detects the immobiliser tag, the vehicle will automatically unlock and disarm the Pandora system, completely handsfree. As you walk away, and the tag signal is lost, the alarm will arm, lock and secure the vehicle. No more fumbling around looking for your keys and pressing buttons! ( Works on certain vehicles )
It will also work through your Fords ( and many other vehicle manufactures ) Proximity entry with proximity key. With the security encryption of the Pandora tags. No tag and the Pandora will stay fully armed and immobilised.
Sensors
With all our packages we have added a minimum of 4 additional sensors. These detect..
Tilt - Detects vehicle jacking up, towing and wheel theft.
Shock zone - Hard impact detection
Shock warn - Light impact warning detection
Motion - Accelerometer, detects speed and movement.
Smartphone (iOS & Android) Bluetooth Sensor
Optional extras which you can add to the Pandora Mini BT package
Dual Proximity sensor with Warn away
Anti Hi-jack
Bluetooth wireless Immobiliser Module
Adjustment Sensors can be simply adjusted using sliders in the Pandora specially designed smartphone app. Also lock unlock your car all from your Smartphone up to 20 meters away. Please be aware this excludes the proximity sensor ( This needs to be adjusted via the sensor itself ).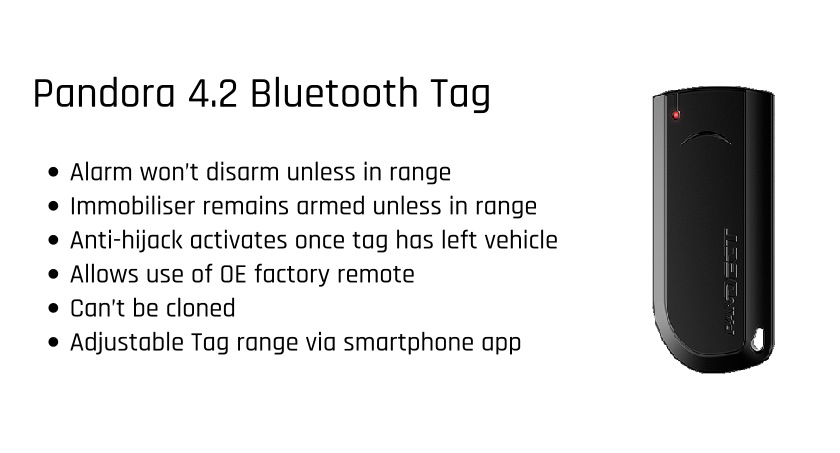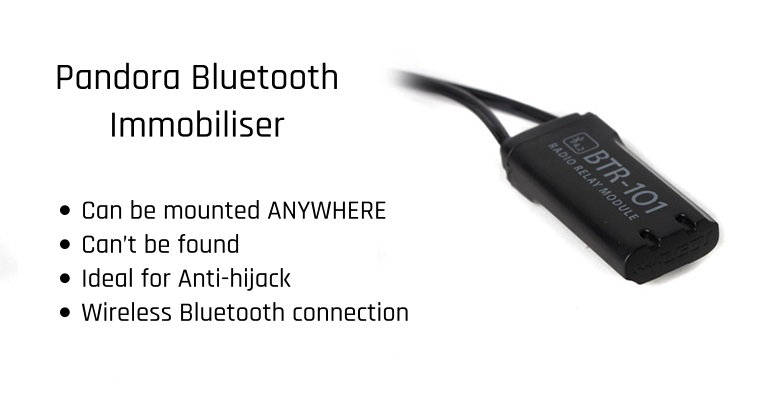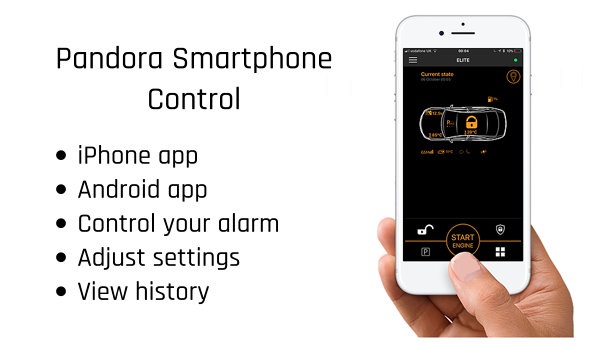 Write a review
Your Name:
Your Review:
Note: HTML is not translated!
Rating:
Bad
Good
Enter the code in the box below: